Had a customer request that we re-use their 700 series off the outside of a converted ambulance on the interior in the rear of a new cruiser.
I lay no claim to the wiring shown in the pictures. It was before I had a chance to cut, solder, and heat-tube it all.
Our solution was to fabricate a custom solution out of aluminum angle stock. Sadly, all I had was 1/4 inch thick stuff, so it was a bit heavier then I liked. After an hour of milling, rounding some edges, and a few minutes in our sandblasting station, it turned out pretty slick. And TWO of the lights weighed more then whole bracket did. The holes for the lightheads were drilled and tapped for 6-32 1/4 20 bolts. At time of final mounting, we used washers between the bolt and the lighthead for a little extra surface area under the head "just in case".
Some of the photos are out of order...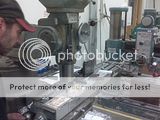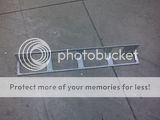 There's a few things not pictured, like the X Y and Z axis adjustable mounts for the rear headliner. Also not pictured are the slots that were milled in to the top surface to allow the brackets to have an adjustable range of about 4" each.
A couple of videos as well:
All in all, we were pretty impressed and the customer liked it as well. Next time around there will be some major revisions. 1/8th inch stock will be used, and a composite backing will be fabricated to help hide the wiring and as a flash shield.